Blimpies Healthy Choices To Choose From When Fast Food Is A Must.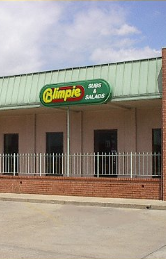 If Subs are what you love, then
Blimpies
is one of your best choices. Blimpies is mostly known for its subs, but they also provide a seclection of wraps, soups, and salads. Like any other fast food place they have meals that aren't the best chioce in regards to calories and fat content, but if eating fast food is a must, we are going to point you in the right direction to get Blimpies healthiest choices.
Blimpies has been making fresh subs since 1964, and is also one of the few fast food restuarants to offer catering servies for your event needs. Blimpes has very affordable combo meals and their meals are very competively priced compared to other fast food value meals.
Blimpies has a great selection of meals to choose from but of course we are going to be looking for the Blimpies healthy choices with the least amount of calories and fat. Remember eating fastfood is not ideal for good weight loss, but if we must do it, lets do it as healthy as we possibly can.
SUB SANDWICH MEALS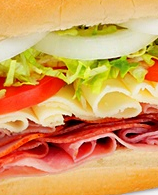 We are going to start with what Blimpies is best known for, their subs. And we are going to give you the top 3 Blimpies healthy choices recomendation that will give you the best eating experience, with the least amount of calories and fat."Here's
two tips
before we start...
#1
- Beware of your dressings. Many people love to add extra mayo, oils...etc. Just remember, there is a large amount of calories and fat in these regular dressings, so go easy. If a light dressing is availble, it would be our recomendation to use that.
#2
-
6"
verses the
12"
subs. Most people buy the 12" because you do get more food for your money which is the better deal financailly. So here's our suggestion..get you a bag of baked chips and go with the "6" sub.
Our Blimpies sub sandwich recomendations...

Remember, sticking with the "6" sub, a bag of baked chips and a diet pepsi or water is the ideal value meal for getting a very low calorie low fat sub sandwich value meal at Blimpies.

BREAKFAST MEALS
Many people don't know Blimpies also offers a
breakfast selection
to choose from. The great thing about breakfast is in most restaurants its the cheapest meal of the day, with that being said, in most cases it offers the least amount of lowfat, low calorie choices to choose from.
Our Blimpies breakfast reccomendations...


SALADS
Blimpies also offers some great salads that are low in calaries and have some very good nutritiona benefits if salads are your thing. Please remember what we mentioned earler about salads dressings. Make sure you choose very carefully. The wrong dressing can add a significant amount of calories and fat.
Our Blimpies saladreccomendations...

Download Blimpies Nutritional Information
Back To top of Blimpies healthy choices p age