Using Resistance Bands @ Home Can Be One Of The Most Effective & Affordable Workouts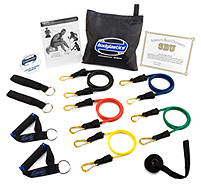 Resistance Bands are very affordable and is very effective
Exercise Equipment
. Exercise equipment for workouts that can be done in the privacy of your own home. Below are some examples of how this cable can help you get the results you are looking for, at a low cost in the privacy of you own home. These are great workouts for you deltoids, abs, and chest. Working out at home can be effective and inexpensive and one very effective key piece of equipment is stretch cables or resistance bands. Resistance bands allow you to workout your entire body, and work it well. Many people are uncomfortable going to the gym, especially women. I've trained women who will literally avoid certain areas of the gym because they are embarrassed to do certain exercises in public or there's to many men in the area.
10 Minute Uppper Body Workout Preview Using Bodylastic Bands
Here is a quick video to show you how quick, easy, and effective a Band workout can be .


Resistance bands or what I like to refer to as "Stretch Bands" are often used for strength, conditioning, rehabilitation, and injury prevention. These bands are excellent for travel and can be conveniently packed for trips away from home.

Theses Bands can be purchased at a very low cost and they come in a verity of colors which in most cases relate to their resistance level.

In most cases the colors are as follows: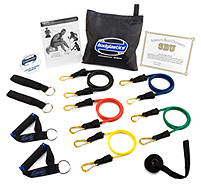 Yellow

(thin)

Green

(medium)

Red

(heavy)

Black

(extra heavy)

Orange

(Super heavy)



Amazon.com carries a number of different styles and packaged programs stretch cables that are very affordable-Bodytrends Complete Pilates Core Conditioning Solution Kit
is an excellent deal for $29.00 bucks.



Now if you're really serious about training and getting great results using resistance bands you can step it up a notch using the Bodylastics Ristance Bands System. CLICK HERE to see the workout system that is used by Pro Athletes, the U.S. Military and S.W.A.T. teams for their training.
---